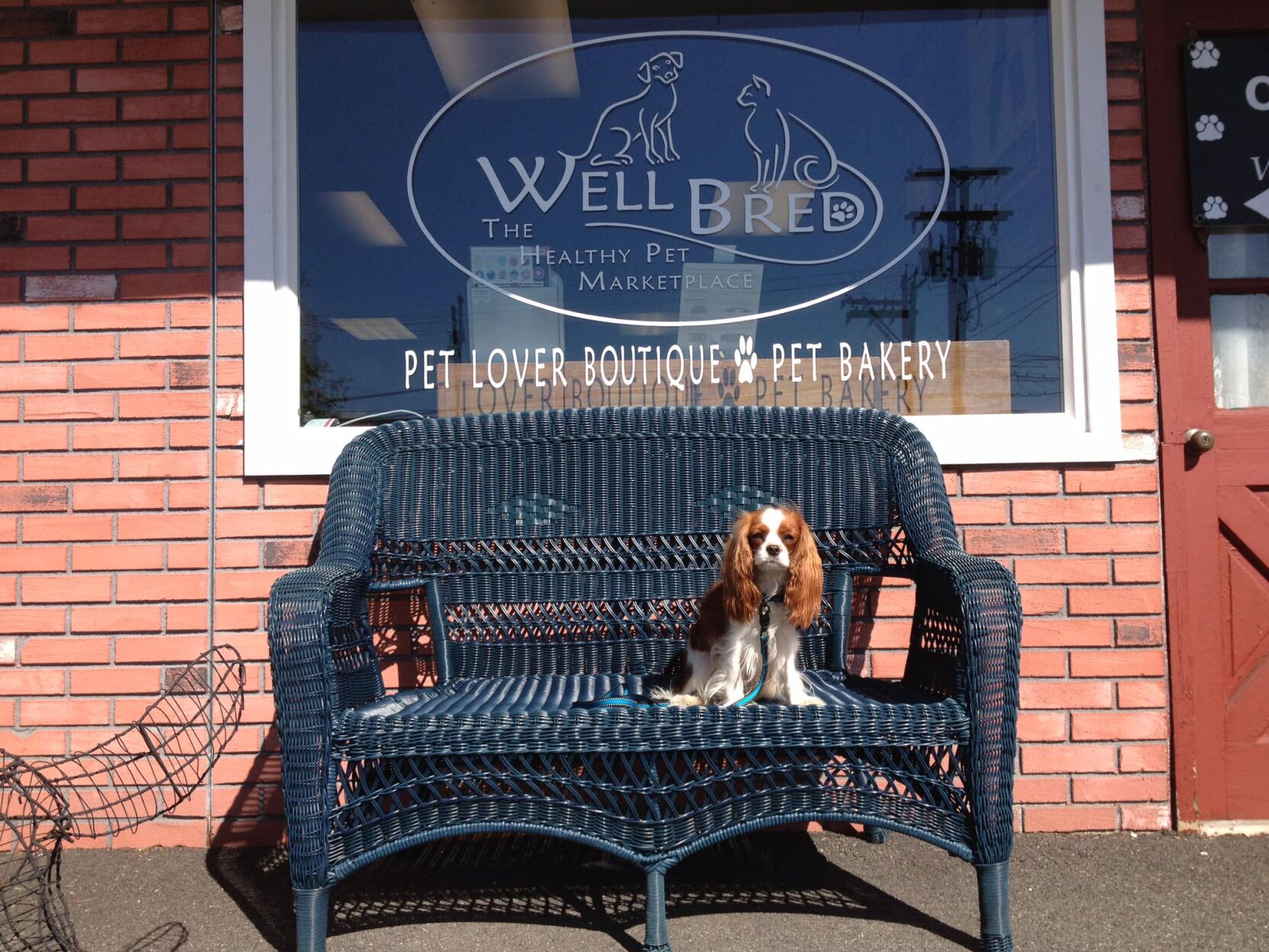 Fair, authentic, helpful, friendly, caring, enthusiastic, energetic, ethical, knowledgeable, uncompromising, strategic, risk taking and, most important, loving. The list goes on, but sit down for a chat with Joanna Bronowicka, owner of Well Bred, The Healthy Pet Marketplace, a pet retailer with six New Jersey locations, and the conversation is replete with these descriptors.
Bronowicka's journey to the world of pet retail commenced in the far-removed corporate realm, when she arrived in the United States to pursue a Master of Business Administration at the University of Michigan.
"I came from Poland, where I'd worked for an equipment manufacturer, responsible for international markets," she says. "I wanted to have a big career here in the United States."
While enrolled in an entrepreneurial class during her course of study, Bronowicka completed a student project outlining a proposal to develop a pet boutique.
"I focused on premium products, pet adoptions and other pursuits," she says.
Upon earning her degree, the business professional stayed in the United States, working in a strategy group for an industrial gas company.
"We analyzed strategic projects and presented them to the board of directors," she says.
However, disarray in the corporate sphere caused Bronowicka to take a hard look back at that college project, saved in her computer. In 2013, she decided to bring that plan to fruition. At the same time, kismet intervened when a friend informed her that Well Bred, which had opened in 2001 in Chester, N.J., was for sale.
"I thought that having something to start with was a great idea," she says.
Bronowicka relied heavily on her business acumen during the purchase proceedings.
"I had a lot of business experience and was able to do my own analysis from a financial perspective," she says. "Patti Storms, Well Bred's founder and owner, worked with me and passed along all the information and secrets she'd come up with."
Academic blueprint in hand, the entrepreneur went to work.
"I put my plan in place, which was to grow a more substantial business," Bronowicka says. "I switched the profile from a pet boutique with gift items, treats and some foods to focusing on healthy nutrition and high-quality products for dogs and cats."
The strategist and dog lover researched nutritional options and all things pet health.
"I'm a dog lover; I show my dogs and they are a huge part of my life, so I was already very interested in pet nutrition overall," she says.
At the time, raw foods were beginning to garner interest, and the retailer brought in Answers Pet Food.
"I spent a lot of time talking with them and learning about their foods," she says.
To further complement existing knowledge and bolster her credentials, Bronowicka searched for university-level nutritional study. She enrolled in Southern Illinois University, which offered a feline and canine nutrition course carved out of its Ph.D. program and available online.
While the design from the beginning was to create a more corporate-leaning endeavor, the new owner's retail education began at the hands-on level.
"I started in that one store and worked as the store manager to learn everything about retail, because I had no experience there," she says.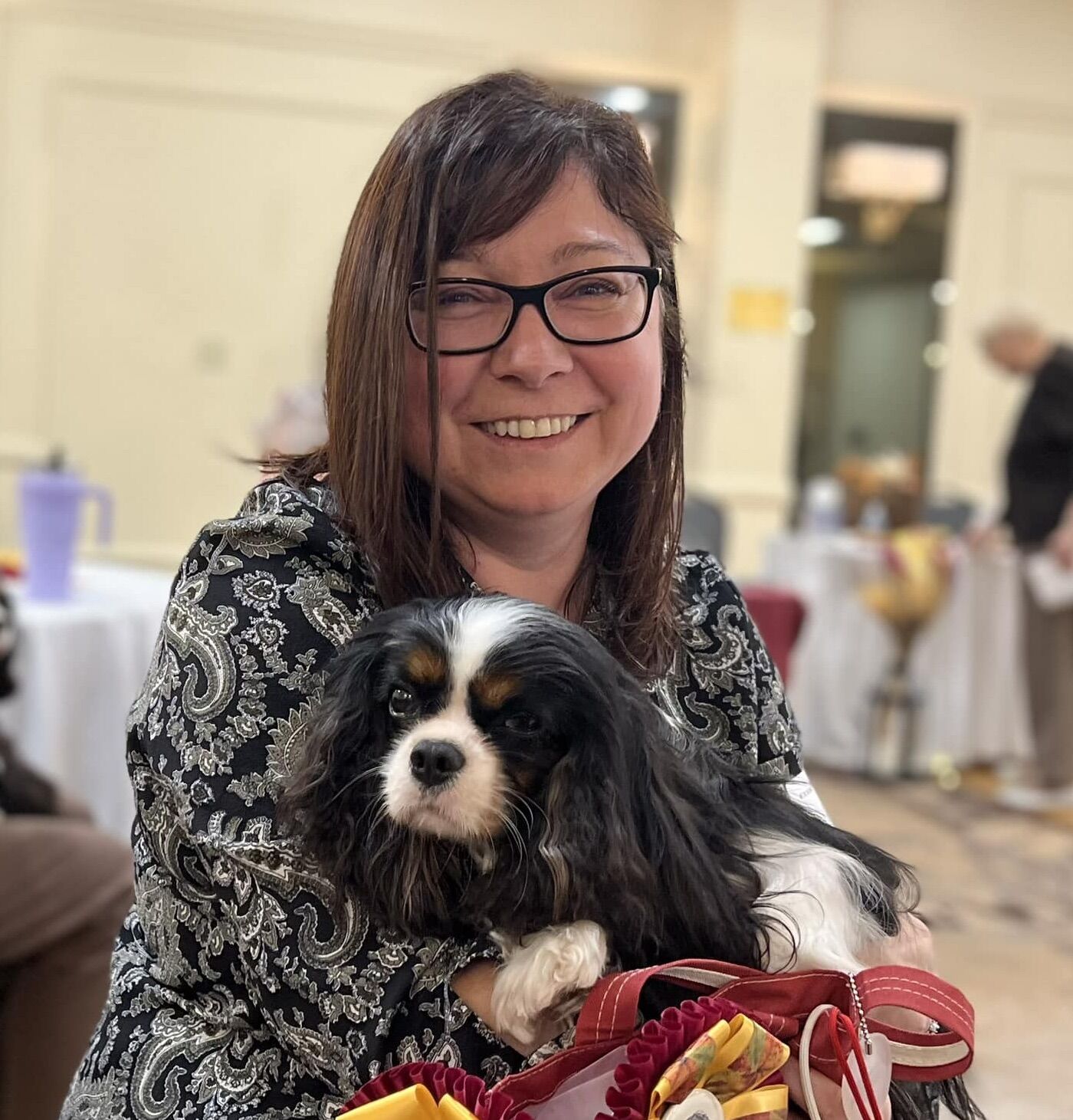 Sales came naturally to Bronowicka.
"It's easy to sell something you believe in, and I used the selling tactics I learned in the corporate world," she says. "My business began growing because we focused strategies on the nutritional aspect of the business and on high-end products."
By 2014, she felt ready to open store No. 2 in Clinton, N.J.
"It was not a good idea actually," she says. "In fact, opening that store almost put me in bankruptcy. I didn't realize at the time that selling pet food on a main street is a big problem because if you don't have parking, they won't be buying food. But we survived."
When a small space in Bronowicka's hometown of Catham, N.J., became available in 2016, she took a leap of faith.
"I really wanted to have a store where I lived, so I took the risk," she says. "It is my smallest store, under 1,000 square feet."
The following year, the Clinton store relocated from the Main Street to a plaza, resulting in an immediate boost in food sales, followed by a former pet store in Livingston reopening under the Well Bred banner.
"I thought it was a good idea to jump on that space," she says.
When the pandemic closed many doors in 2020, pet supplies were deemed essential and Well Bred remained open. Business picked up.
"Mostly because our competition didn't do very well," Bronowicka says. "Well Bred was open all the time, and our main competitor basically closed their doors and employees handed items to customers through [plexiglass]."
During this time, Well Bred began offering an online store with home delivery.
"I worked with a developer to create a very functional, good-looking website, and the service started right away," Bronowicka says. "Since we don't have a central warehouse, we deliver from the individual stores within what we call a delivery zone."
Initially, employees were enlisted to accomplish this task using their own cars; however, as demand increased, a delivery service took over.
"My senior store manager takes the orders, schedules deliveries, and the transportation company picks up the order at the store closest to the customer," she says. "Most items are delivered the same day, which customers love."
The 2020 closure of a large big-box pet store chain in the area inspired Bronowicka to inquire about taking over some of the spaces.
"I managed to get a really great location in Madison, and that same year we moved the original Chester store from Main Street to a larger site next to a grocery store," she says.
In 2022, Well Bred began welcoming customers to a former location of the same chain in Bernardsville.
Bronowicka considers sites adjacent to a grocery store or in a service plaza to be premium, not only because of visibility, convenience and added foot traffic, but also due to the ability to create more uniform branding.
"On a Main Street you can only do so much with the look," she notes.
To this aim, each store features a color scheme unique to Well Bred.
"The inside is painted a soothing light green and white; it's a high-end feel," Bronowicka says. "We get a lot of comments about how pretty our stores are."
Cleanliness furthers a pleasant customer experience, as does a lack of clutter.
"We don't overstock our inventory to where people feel overwhelmed," she says.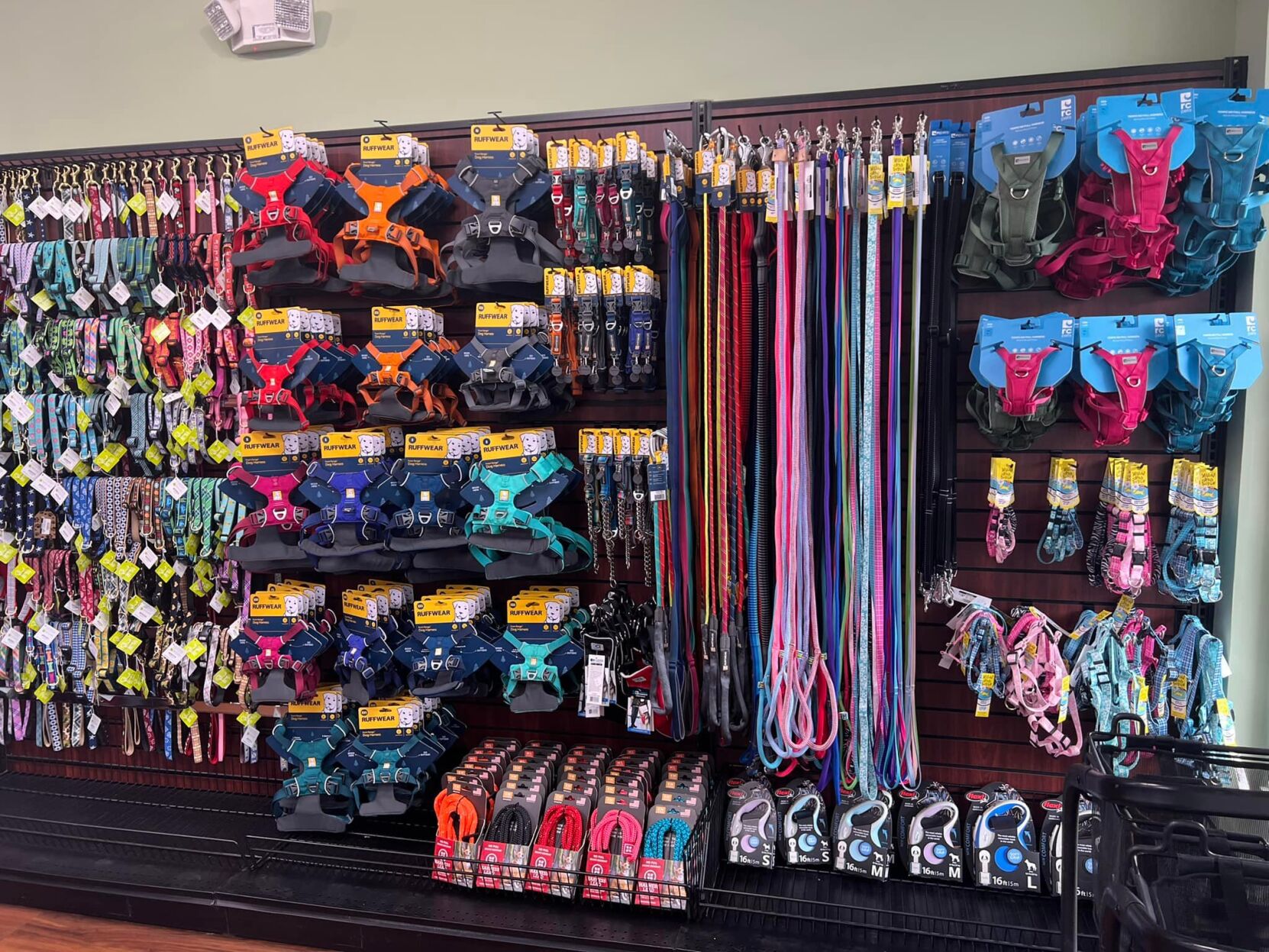 Energy, Enthusiasm & Ethics
Stellar customer service is the bedrock of the Well Bred experience, and friendly, knowledgeable and helpful associates form the heart of the company.
In a new hire, Bronowicka looks first for an outgoing personality, one able to connect to people and their pets with energy and enthusiasm.
"It makes for really good customer service employees and real, true salespeople," she adds.
A love of dogs is essential, and an interest in nutrition a strong plus.
"Obviously it is difficult to find someone who is already knowledgeable in nutrition, but that's fine because we do our own training," she says.
Integrity is pivotal to the Well Bred credo.
"I want to make sure that we are an ethical company," she says. "If we are fair with our customers, and I'm fair with my staff, and they're fair with me, we create a very good energy and people find us to be authentic."
Once onboard, fledgling staff members become familiar with the extensive product mix by spending time shadowing an experienced manager on the sales floor. Participation in weekly inventory counts and ordering furthers that understanding.
"It's a great introduction to what we carry," she says.
Once a grasp of the basics is established, further tutelage takes place with Bronowicka at the podium.
"I personally do a two-day training, four hours each day," she says. "The first day, I cover basic strategy—who we are, why we do what we do, the satisfaction we have in helping pets."
Day two covers foods, treats and chews, providing further insight. For employees and customers wishing to expand their nutritional edification, the Well Bred website features informational blogs penned primarily by Bronowicka, with the occasional guest contributor weighing in.
"We have articles covering different topics, for example, gently cooked foods, or those that are good for itchy pets, or skin or coat problems," she adds.
From there, associates are poised for a deeper dive.
"I'll take two or three employees to a restaurant where we just sit and talk for hours," she says.
This instruction is presented to newer staff members, or as a refresher course to those already onboard. A recently hired growth and training manager, with extensive nutritional knowledge, will further this avenue of study.
Manufacturer trainings are also utilized in order to provide an overview of products offered.
Associates wishing to delve further into the world of pet nutrition have the option of enrolling in Dogs Naturally magazine's certification program.
"It's good training that I gladly pay for," she adds.
As a result of this extensive tutelage, the Well Bred team is able to interact with confidence when assisting pet owners, whether it be finding the best food or in solving issues.
"Our customers are smart, and our employees need to be able to articulate information in a way that makes sense," Bronowicka says.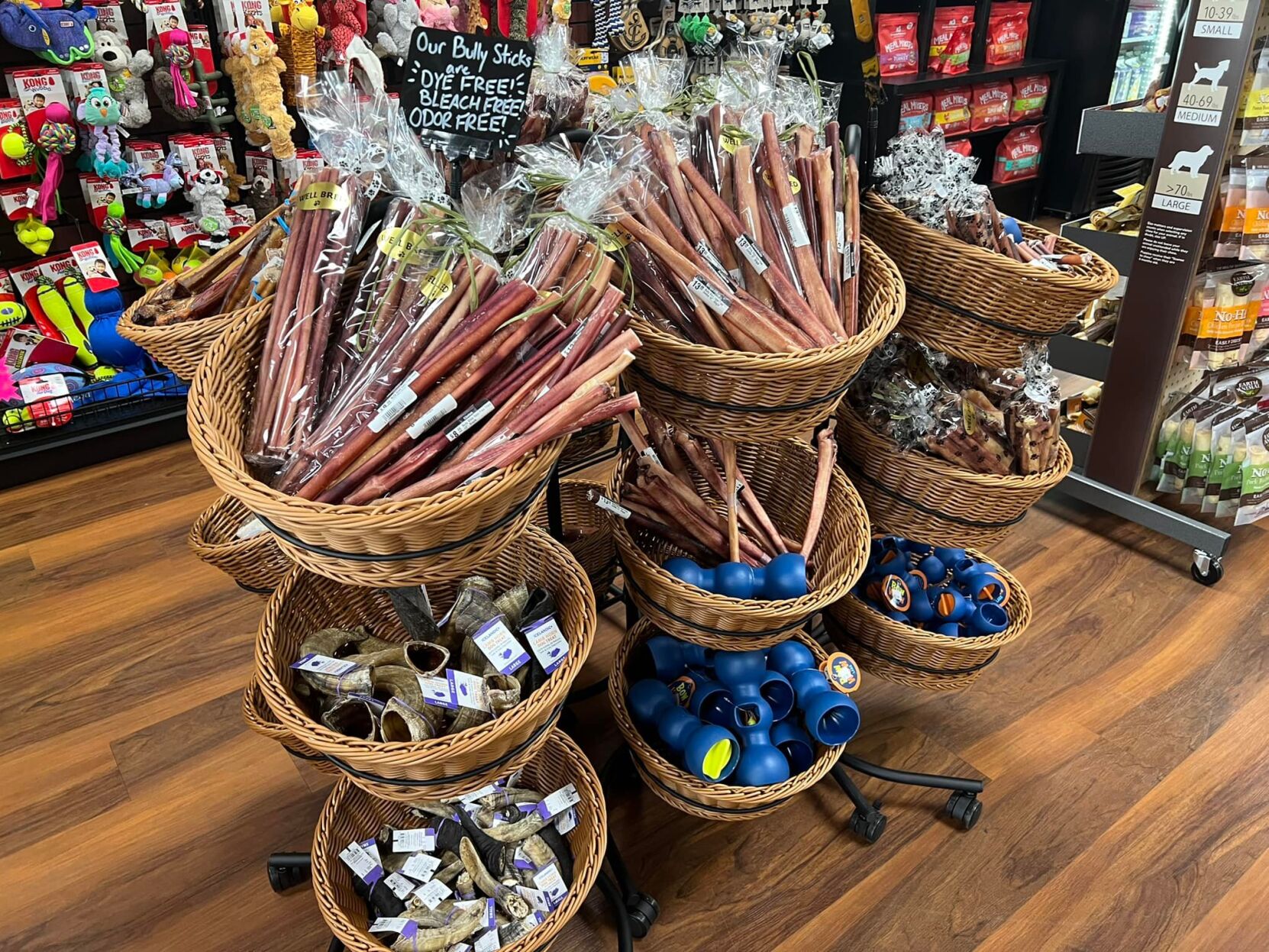 Heart & Soul
If stellar customer service forms the heart of the company, a passion for the health and well-being of pets through proper care and nutrition is the core, or soul, of Well Bred.
"We are truthful and uncompromising, and our customers appreciate that," Bronowicka says. "Even in a food that might be more expensive, it goes back to knowledge of nutrition and what's best for the dog."
Well Bred spotlights natural and organic raw, freeze-dried and gently cooked foods.
"We do offer kibble but focus on quality foods with the highest amount of meat and less processing," she says. "We also carry canned but actually prefer raw or gently cooked foods."
Bronowicka notes an advantage to feeding a gently cooked diet is the ability to focus on variety.
"Alternating proteins is a big thing for us," she says. "The dogs who get that variety are healthier, less picky, enjoy their food more and don't develop allergies."
Staffers are always at the ready to provide free-of-charge, in-the-moment nutritional consultations, some with pet food certification from Dogs Naturally.
However, pet owners wishing to examine the health and nutritional needs of their pet more extensively often enlist Bronowicka's services as "diet guru."
"Basically, I provide a deep nutritional consultation, which can be scheduled online, and I spend at least two hours discussing the pet," she says. "We come up with a diet plan, and I can be contacted by text any time of the day with questions afterward."
Freeze-dried treats, and those made from meat and without additives, are in the product mix.
"That's the most important consideration," she says.
The majority of these treats are prepackaged.
"We do have some bulk treats because some customers want them," she says. "But I prefer a packaged treat because with bulk, they are exposed."
An assortment of bakery goodies is presented in bakery cases or on fancy food carts, depending on the store.
"It makes it boutique-y looking and fun," she says.
True to her passion for nutrition, Bronowicka considers these treats to be exceptions rather than staples.
"Our bakery treats are more for special occasions, like a dog's birthday or Christmas," she says. "Just like with children, you don't feed cookies every day, but you buy one for an occasion because it's a fun thing."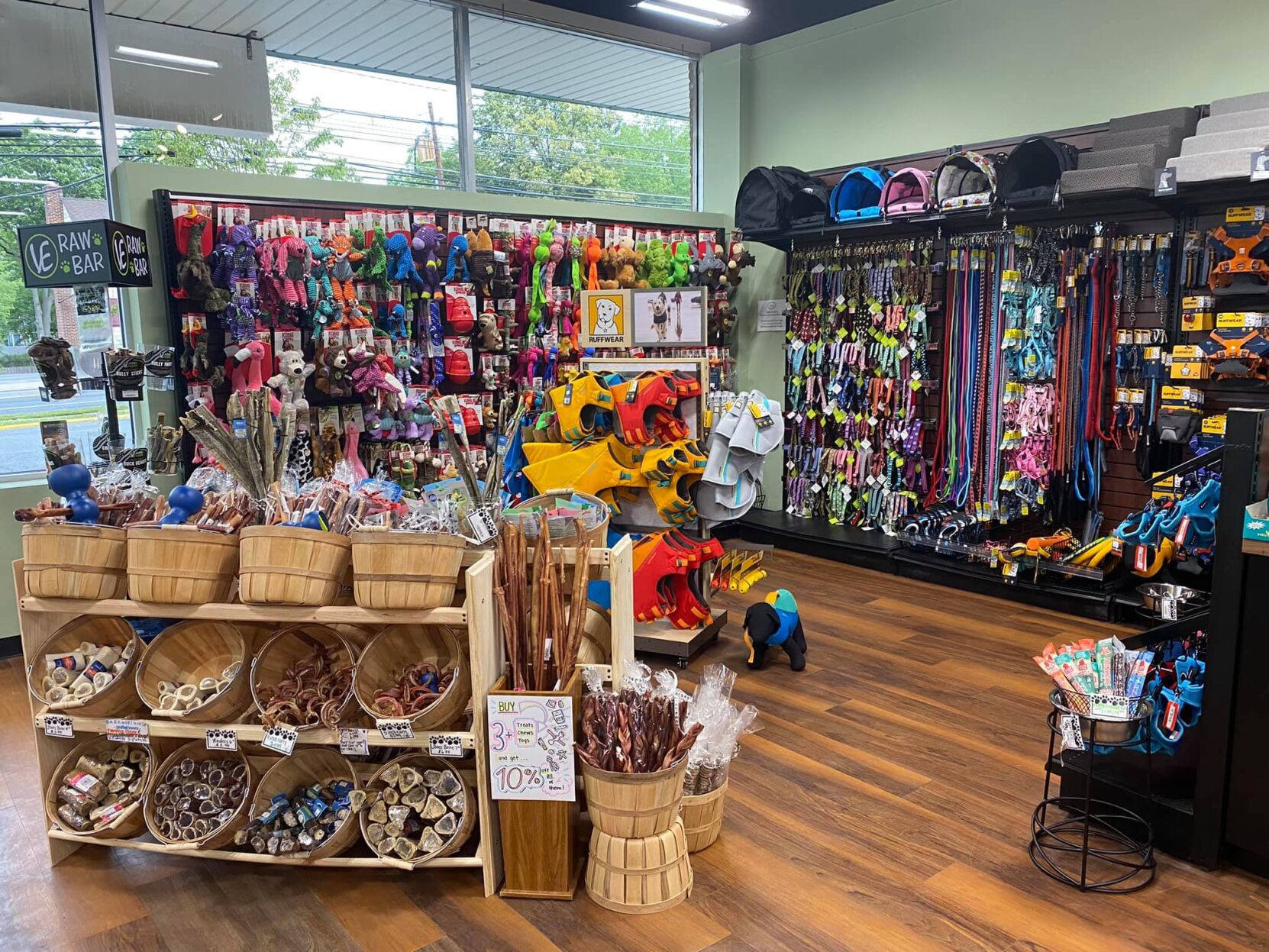 Well Bred also stocks a broad array of high-quality pet supplies.
"People buy from us because they want quality. In fact, 50 to 60 percent of our revenues are from products for dogs and cats," Bronowicka says. "We offer what we know, have expertise in and can speak to."
One-on-one grooming services are offered at the Livingston store, with an emphasis on providing pups with a premium, soothing experience.
"It's very important that our groomers are gentle. They take one dog at a time, from beginning to end," she says. "We don't have helpers with one washing, one scissoring and another drying."
To further the stress-free ambiance, dogs are not crated. The physical comfort of furry clients is another factor.
"The floors are padded, and dogs like walking on it; it's not tough on their feet," she says. "It's very friendly for the dogs, and they love it."
Self-serve spa suites, sited in the Livingston and Bernardsville stores, offer do-it-yourself convenience for pets and their owners. These facilities were on site when Well Bred took over. At this time, Bronowicka has no plans to expand these services, opting instead to concentrate on Well Bred's specialty—pet health and nutrition.
"If we had more, our employees would be cleaning the self-washes instead of focusing on nutrition and retail," she says.
Reaching Out
Pets and people in need are supported in myriad ways.
"We work a lot with rescues," Bronowicka says. "For example, rescues or shelters wishing to hold adoptions with us are always welcomed, and we will organize and advertise the effort."
Food drives benefitting these organizations provide further assistance.
"In December, we hold a food drive with foods, treats and toys available for customers to purchase and donate," she says.
In 2022's drive, approximately $6,000 in donations was gathered storewide. Bronowicka credits this success to staff members.
"Advertising is not going to do it. Email is not going to do it. It's about our employees talking to our customers," she says.
Donation bins, sited in all stores, allow customers to donate to shelters and rescues year-round.
Those fostering rescue pets in their own homes are not forgotten.
"If they need food or supplies, we donate," she says.
Families in need of assistance for their pets are also embraced.
"That can be through word-of-mouth, or I post on local groups that people in need can come to me," she says. "We are happy to help."
---
Providing for Pets in Need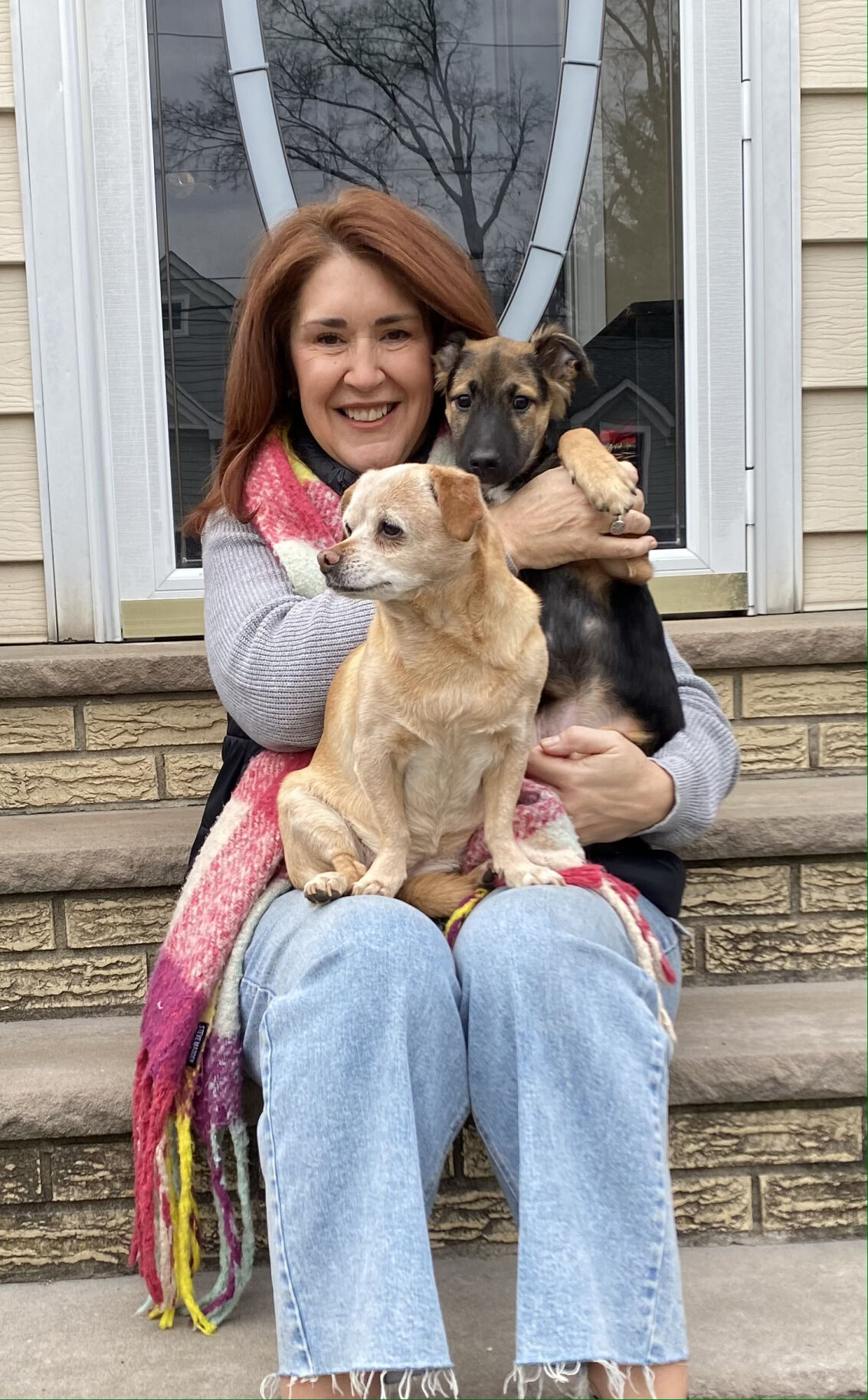 As a volunteer, Linda Noecker has been fostering rescued dogs for the past five years, one dog at a time. These pets join her own furry family members: 10-year-old Chiweenie Casey and Fletcher, a six-month-old potcake puppy from the Caribbean island of Anguilla.
"The founder of the rescue that I foster with, Fly To Freedom Dog Rescue, donated Fletcher to me when we tragically lost our pit bull, Lily," Noecker says. "I took one look at him, and here he is."
The potcake, a canine of mixed breed, exists on several Caribbean islands. The name is derived from the caked remains of a traditional island dish, which is often mixed with other scraps and fed to the island strays. The hardy potcake dogs have proliferated, and Fly to Freedom Dog Rescue sees to the medical needs of the animals populating the island of Anguilla. The rescue also flies pups to be rehomed with adoptive families in the United States.
"Typically, I pick them up at the airport and foster anywhere from one to seven weeks until I can find an adopter," Noecker says.
In addition, Noecker provides temporary housing to animals recused by Lost Paws Animal Rescue.
The expenses of feeding and caring for fostered canines can add up, and several years ago, Noecker contacted her local Well Bred store in Livingston to seek donations. It was the perfect match.
"Joanna Bronowicka provides my fosters with expired foods, which are still good but unsalable, or chews, which are great because if I get a puppy in, it needs to chew," she says. "It's wonderful; the store is right around the corner from my home, and I can send a message, and a package will be put together that I just pick up."
Noecker adds that unused donated goods are not wasted.
"Whether it's collars, leashes or food, we have someone else in town who collects these items to donate to families in need," she adds. "It's a great cycle."
Well Bred contributes as well, providing donations or discounts to families experiencing hardship.
"Joanna is amazing," Noecker says. "A lot of people would have to give their dog away if they can't afford it. This helps."
As a dedicated Well Bred customer, Noecker appreciates the one-on-one service from well-educated staffers.
"When shopping at a big box, you get anyone who needs a job," she says. "Well Bred staff members understand nutrition, or the types of product that are best for your dog.
"As a matter of fact, Fletcher is ready for a new collar, so we'll be going there soon," Noecker adds.
---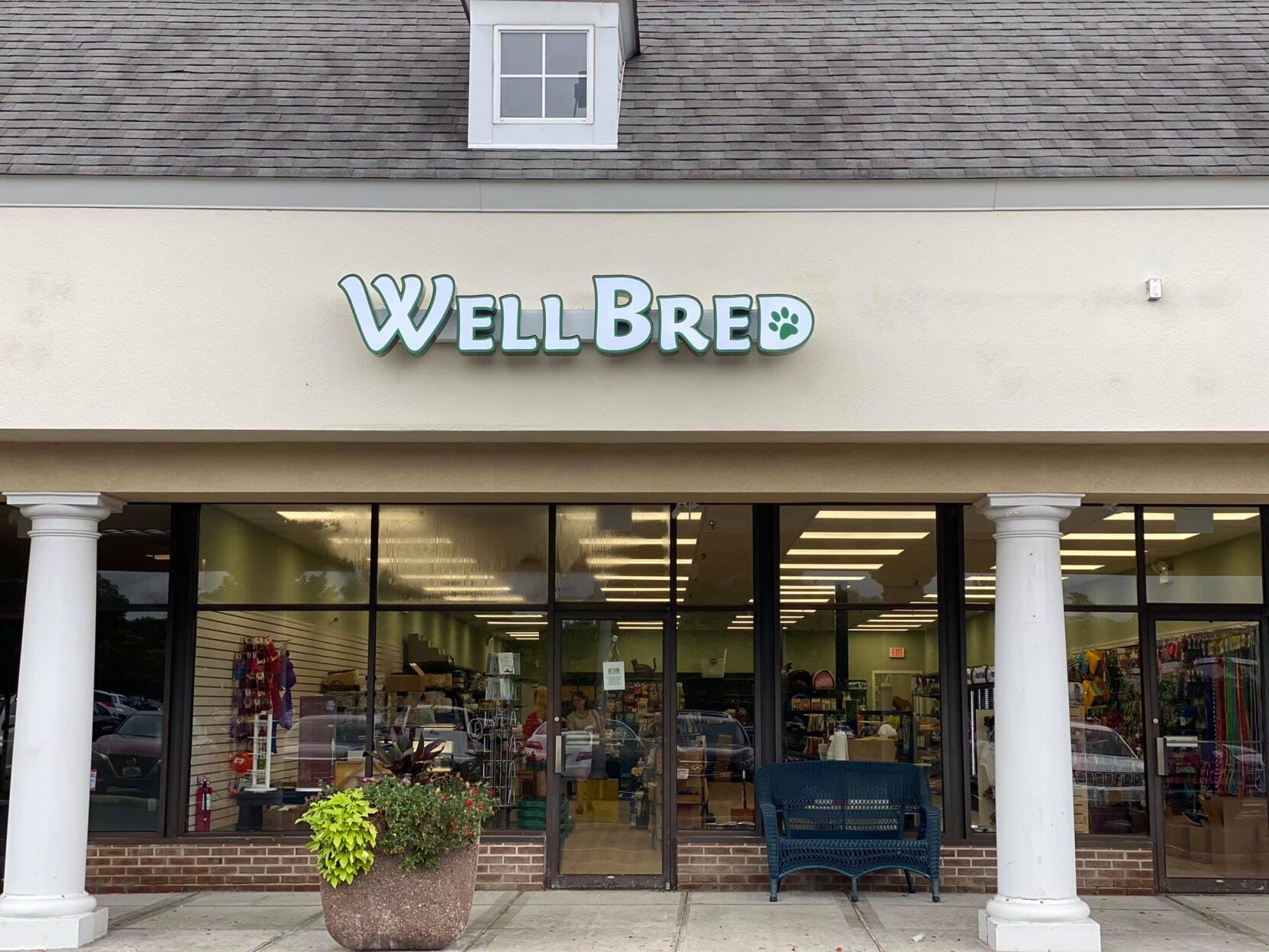 It's A Retail Life
What is Well Bred best known for?
Joanna Bronowicka: Healthy foods and the best products for dogs and cats.
What is the greatest challenge for the independent pet retailer today?
Bronowicka: Veterinarians who don't have knowledge in nutrition but act like they do. I really would like for them to learn more about raw and cooked foods so they can properly advise their clients.
Challenges for the pet industry overall?
Bronowicka: It's a growing industry, but there is a big challenge—the players who sell below their costs, who deliver foods where there is no profit and basically undercut the market. I think these are predatory practices.
Are you watching any interesting trends?
Bronowicka: People love the idea of cooked foods. They smell good, are more nutritious, and dogs like them versus kibble. Another trend is that customers are becoming more educated, which is awesome. They understand nutrition, know what they want, ask really good questions and follow people like Dr. Judy Morgan.
What do you see for the future of Well Bred?
Bronowicka: We will continue [to do] what we do the best: educate customers, make them feel welcome, happy and loved. I want to be a loved company and want my employees to feel that love. This creates great energy. I am so fortunate to have an outstanding team who stay with us, love their job and are really proud of working within the company.